Jan

18
Tags
Related Posts
Share This
BioSmart Hillcrest "Plate" Launches
oops!!!
Curezone has a new policy
on Hotlinking photos…
I will fix the blue missing photos before long!!!
Leslie
PROMOTIONAL IDEAS
FOR GETTING BIOSMART
ON PLANET EARTH
Taking Green Steps
1. TAKE SMALL STEPS AT FIRST… Try something simple: replace Styrofoam and other petroleum-based items with BioSmart.
2. LEARN THE TERMS… Compostable vs. Biodegradable – Learn more. Recycled vs. Tree Free – Learn more.
3. SPREAD THE WORD… Ask your local restaurant, workplace or school cafeteria if they use green disposables like BioSmart.
Promotional Ideas
Have a Green Party…
The majority of people – 80 percent of consumers –
are "concerned about the global environment"¹.
In addition to earth-friendly BioSmart disposable products, try something simple like using local produce from a Farmers Market.
Help Your Community…
Share with your place of worship or youth sports organization how easy it is to be more eco-friendly. Think about what you dispose of every day in your home then multiply it for much larger groups –
you can make an impact.
Nielsen Global Online Survey
http://www.biosmartpackaging.com/Default.aspx?cl=planning#PromotionalIdeas
LIKE BIOSMART HERE ON FACEBOOK
http://www.facebook.com/pages/BioSmart-Packaging-and-Earthsmart-Products/186907372812?sk=wall
Posted
April 28, 2011
12:36 pm
I tried out a new idea at the Hillcrest Farmers' Market
on Sunday January 17, 2011. I loaded up one of the
BioSmart Bagasse plates with sprouts from Suzie's Farm.
It made a lovely site! Then, I went over to Celeste
at Peace Pies and added various toppings.
I imagined a new concept taking off;
The BioSmart tray, ideal for school cafeterias,
would be used as a healthy alternative plate
to the styrofoam that is so common at our Farmers' Markets.
The Hillcrest Farmers' Market in San Diego is one of the
most popular in our City.
I want to see the idea catch on as a way of
popularizing the Beet Keepers, Return!
End of Styrofoam campaign.
Read below. You will find a story about the state
of California banning styrofoam use from State Parks.
How soon will Styrofoam be banned from Farmers' Markets
and other vendor uses?
Because of the nature of the Farmers' Market, where
their is a direct contact between the shopper and the vendor,
this is a great place to educate about Real Food Safety as
well as environmental issues.
Styrofoam is having a major impact on the health of
our landfills as well as oceans.
BIoSmart Sugar Cane Bagasse
advances End of Stryrofoam Campaign
at Hillcrest Farmers' Market
Donna of Terra Bella Farm and the Hillcrest Bagasse Plate
from BioSmart 100% Sustainable Packaging.
PRODUCTS FROM BIOSMART
TO DO THIS BEET KEEPER PROJECT
10.5″ x 8.5″ x 1″ Five Compartment Heavy Duty Tray
T-2095-FB
Heavy gauge, built to perform in soup kitchens, shelters, schools, prisons, and cafeteria applications. Features 5 compartments.
http://www.biosmartpackaging.com/Default.aspx?cat=3275∏=663
FORKS– CUTLERY NEEDED FOR HILLCREST
FARMERS' MARKET PROJECT FROM BIOSMART PACKAGING
http://www.biosmartpackaging.com/Default.aspx?cat=3274
Peace Pies, a lovely favorite vendor of mine
added an assortment of toppings to my sprouts.
It was a lovely way to eat the sprouts offered
at Suzie's Farm.
A tray of raw organic almonds, walnuts, and dried tomatoes
from Terra Bella Farm also added to the eye appealing
delights offered up in the BioSmart Trays.
the Concept is a winner!!!
JP amd CELESTE OF PEACE PIES
photo from last 2010.
BIOSMART A HIT
Trace the history of our Get BioSmart
Campaign to End Styrofoam here:
http://curezone.com/blogs/fm.asp?i=1641283
Anthony Russo,
creator of BioSmart Packaging
visits the Enchanted Garden, my home.
in 2009
CA BANS STYROFOAM IN STATE PARK CONCESSIONS
CA Bans Styrofoam in State Park Concessions
California, USA – The State of California is one of many states exploring or enacting the ban of Styrofoam products. CA State Park Concessionaires are now banned from using or selling Styrofoam. The following excerpt reflects the specific language for State Park Concessionaire contracts.
READ MORE ABOUT THE BAN HERE
http://www.biosmartpackaging.com/About/News.aspx
PLASTIC IN THE OCEAN PROBLEM
AT THE GREAT GARBAGE PATCH
http://www.youtube.com/watch?v=XxNqzAHGXvs&feature=related
NURDLES AND SYNTHETIC PARTICLES
STYROFOAM IN THE OCEAN
http://redblueamerica.com/blog/2008-03-25/10-million-tons-floating-the-plastic-ocean-1937
MORE ON TERRA BELLA NUTS!
http://curezone.com/blogs/fm.asp?i=1586540
SEE THE VEGETARIAN GUY
FOR MORE ON TERRA BELLA RANCH
http://georgevutetakis.com/blog/2010/terra-bella-ranch/
I have been admiring the products of Terra Bella Ranch at our Hillcrest Farmers' Market for weeks I enjoy their certified Organic Nuts. I also had in mind yesterday to get show a draft of the Playbook I will be taking to the Natural Product Expo West this week. That all added up to making this Youtube for Nicolina Alves. Hope you like this! I love their Certified Nuts–Organically grown that is!
I connected with Nicolina Alves last week at the California
Small Farm Conference in San Diego, February 28-March 1 & 2.
The conference was like walking through a dream for me.
I write about food a lot and the Hillcrest Farmers' Market
is my home community for my eats.
PROPS TO THE PLANT YOUR DREAM BLOG
SPONSORS
HELPING THE WORLD TO GET BIOSMART
WINTER 2011
HELPING THE WORLD
GET BIO SMART
through using BioSmart
Sustainable Packaging and Serviceware.
Made From 100% Natural Sugar Cane.
Bagasse is a by-product of sugar cane
production.
Http://www.earthsmartllc.com
http://www.biosmartpackaging.com/
ANTHONY RUSSO BIOSMART
100 % SUSTAINABLE PACKAGING SOLUTIONS
http://curezone.com/blogs/fm.asp?i=1632344
PLEASE VISIT THE PLANT YOUR DREAM
PUBLIC WEBSITE TO VIEW STORIES
ABOUT THE SEED DREAMS WE SUPPORT
AND THAT SPONSOR BEET KEEPERS, RETURN!
Http://www.plantyourdream.net
KEEP THE BEET MEDIA STAR
THE WORLD'S FIRST TALKING BEET PLANT SEZ
THANKS FOR KEEPING LOVE GROWING
JOIN THE BEET KEEPERS ON
THE PLANT YOUR DREAM WEBSITE HERE
Together we can plant 1000 years of peace.
This is the essence of Beet Keepers, Return!
The Shift has happened.
Thank you for starring in my
Rock Your Soul Opera called Beet Keepers, Return!
http://plantyourdream.net/?page_id=552
THIS IS A PHOTO OF ME,
KEEP THE BEET, LEFT WITH LESLIE,
YOUR ENCHANTED GARDENER
…Get use to it…yes, I am a talking beet plant
and I often write here through Leslie on this
plant your dream blog…for more about me
go to ..
BEET KEEPERS OF THE WORLD UNITE
http://curezone.com/blogs/fm.asp?i=1209704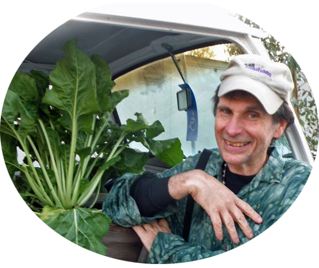 LESLIE GOLDMAN
YOUR ENCHANTED GARDENER,
Leslie writes daily on his more personal
Plant Your Dream Blog Online Journal
http://curezone.com/blogs/f.asp?f=92
Leslie Goldman, Your Enchanted Gardener,
sees and seeds success for super ripe
people and their dreams. His constant companion
is Keep the Beet Media Star, the Worlds Frst Talking beet plant.
Her mission is to help us all turn our beat around
with nature through planting a beet in a pot.
Keep the Beet. Eat the Greens, says Keep the Beet.
PUBLIC WEBSITE
THE PLANT YOUR DREAM WEBSITE
http://www.plantyourdream.net
CUREZONE PLANT YOUR DREAM BLOG
A record of Leslie's
life process. Serves as a palate
for new creations.
Leslie is in the wounded healer tradition.
he does his best to share his ups and downs
that we might all acknowledge we are
stars in Keep The Beet's Rock Your Soul Opera
called Beet Keepers, Return!
The Shift has happened.
We can no longer ask nature to adapt to us
but more so honor the journey of learning.
We can turn our breakdowns into breakthroughs.
JOIN THE BEET KEEPERS NOW!
http://plantyourdream.net/?page_id=552
WANT YOUR SEED DREAM PLANTED?
Mark VICTOR HANSEN DID
and sold millions of books
WEALTHY WRITERS WISDOM IS A GREAT PROGRAM
http://curezone.com/blogs/fm.asp?i=1642979
READ ABOUT IT
ROOTING IN THE SOIL OF SOUL DREAMS
IN SPACE OF LOVE MAGAZINE
http://www.spaceoflovemagazine.com/article_3_5.htm
"My Enchanted Friend,
Heartfelt thanks for another "Enchanted" plant.
I love + bless it & you.
It graces my desk beautifully. Thank you!
I deeply appreciate you 'seeding our dream'
to sell millions. I wish the same for you."
In Friendship,
Mark Victor Hansen
5-23-99
JOIN THE BEET KEEPERS ON THE NEW PLANT YOUR DREAM WEBSITE
http://plantyourdream.net/?page_id=552
LESLIE GOLDMAN ON FACEBOOK
YOUR ENCHANTED GARDENER
http://www.facebook.com/YourEnchantedGardener
KEEP THE BEET ON FACEBOOK
http://www.facebook.com/profile.php?id=100000967553950
GROW A BEET IN A POT
CAN HELP US TURN OUR BEAT
AROUND WITH NATURE
GROWING YOUR PRODUCE MAY BE
EARIER THAN YOU THINK